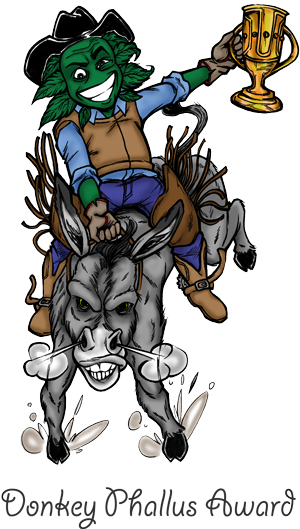 There have been many cannabis cups in the past but none compare to the Donkey Phallus Award. Earning a Donkey Phallus is a an unparalleled symbol of achievement only bestowed upon the most worthiest of growers. 
To win a Phallus you must grow a bud that is as big as a Donkey's Phallus. But size is not all it must have. Being big enough just gets you to the next level of qualification.  The bud must also be perfectly grown and loaded with ripe trichomes.
Winners of the Donkey Phallus will be immortalized with highest honour for life, have a photo of their Phallus forevermore enshrined in our winners gallery, and will also receive a limited edition mug reserved only for winners.  
If you are not a winner you cannot get a mug. Don't even bother to try asking. 
There is a strong possibility that your bud will not make the cut for one reason or another and will not qualify for a Donkey Phallus. Imagine Jiro Ono master sushi chef assessing a fresh tuna for quality before allowing it to be sold in his Michelin starred restaurant. He'd rather fall on his sushi knife than choose anything less than a perfect tuna. Our judges are that tough with your bud. They don't hand out Phalluses that easily. Why do you think everyone wants one so bad?
If your bud is not worthy of a Donkey Phallus do not despair because hardly anyones is! Most are too small! If you have grown amazing buds that are good, but just not good enough for the prestigious Phallus, you can still win free seeds in our Photo Contest. 
Once your skills improve maybe then you can come back and win a Donkey Phallus.
If you want to try to win a Donkey Phallus, send your exceptional photos to rebecca@drseeds.net with DONKEY PHALLUS in the subject heading. Please also include the strain name in the body of your email.